Signs and Symptoms of Gastric Ulcers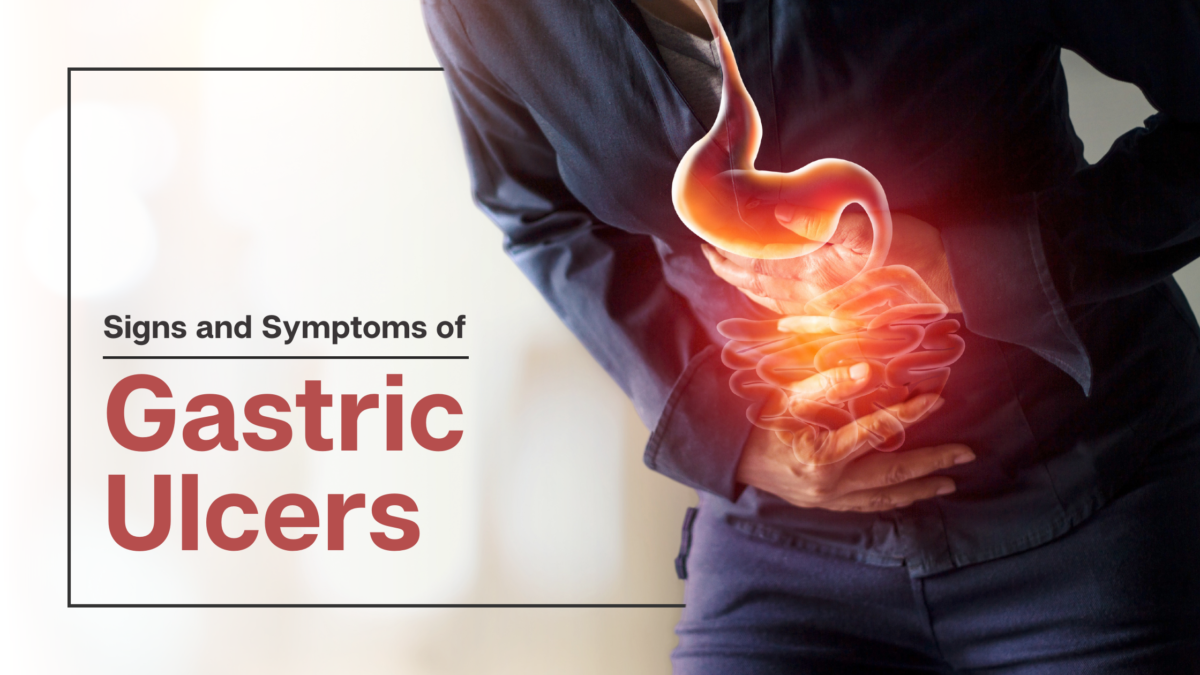 Gastric ulcers also called stomach ulcers or peptic ulcer is a localized location of stomach liner erosion. Stomach pain, possibly bleeding, and other gastrointestinal problems are among the signs.
Stomach Ulcers: How Prevalent are they?
The exact prevalence of stomach ulcers is unknown. Due to higher effective therapies, they have become significantly less common since the 1980s. As a result, persons with stomach ulcers now recover significantly faster.
Ulcers generated with too much acid in the stomach are referred to as peptic ulcers. This includes ulcers in the stomach as well as ulcers in the duodenum, the first portion of the small intestine. Duodenal ulcers are more prevalent than stomach ulcers.
Gastric Ulcers Symptoms
The most common symptom of stomach ulcers is upper abdominal pain.
Other symptoms are given below:
After a meal, you feel extremely 'full'
Not feeling well (nausea).
Vomiting
Other Complicating Signs and Symptoms of Gastric Ulcers are given below:
Stomach ulcers can lead to a variety of issues, but thanks to more new therapies, they are becoming less rare. Consequences, on the other hand, might be exceedingly dangerous and include:
The Ulcer is Causing Bleeding

If you experience sudden excessive bleeding, you will puke blood and become quite dizzy.
A slower trickle of blood will travel through your stomach, causing your stools to become very darker or even black in color.
This could be something as simple as a 'trickle' or something more catastrophic like a life-threatening bleed.
Because the stomach acid has partially broken down the blood, less acute bleeding may lead you to vomit. The vomit may appear coffee-colored.

Blockage in the Stomach
This is no longer common. An ulcer at the end of the abdomen might constrict the stomach outflow (the section of the belly that passes into the stomach) and hinder digestion. This can lead to severe nausea that occurs on a regular basis.
This is the word used to describe an ulcer that has penetrated (perforated) the stomach lining completely. The stomach's contents, including meals and acid, then seep out. This frequently produces excruciating pain and makes you feel extremely ill. An abdomen perforation is a health emergency that requires immediate medical help.
Gastric Ulcers Causes
In order to promote digestion and fight infections, your stomach produces acid naturally. Because this acid is toxic, certain cells on the inner lining of the belly and the duodenum, the first section of the small intestine, develop a biological mucous barrier. This helps to keep the gut and duodenal linings healthy. The quantity of acid you produce and the mucous defense barrier are generally in equilibrium. If this balance is disrupted, acid can damage the belly or duodenal lining, resulting in a Gastric ulcer.
Treatment for Gastric Ulcers
Symptoms can be improved by changing one's lifestyle, such as:
Smaller meals are better, and your dinner should be eaten 3-4 hours before bedtime.
If you're overweight, you should lose weight.
Limit your alcohol intake to the prescribed amount.
Quit smoking.
Tomatoes, chocolate, fatty foods, and spicy foods should all be avoided as triggers.
How about a Surgical Procedure?
A Gastric ulcer used to be treated with surgery quite often. This even before it was established that H. pylori infection was the most common cause of stomach ulcers and before contemporary acid-suppressing medications were available. Treatment is currently only required if a complication of a stomach ulcer occurs, such as serious blood or a hole in the abdomen.
Conclusion
A few months after finishing treatment, a repeat gastroscopy is frequently recommended. This is primarily to ensure that the ulcer has healed completely. It's also important to make sure the 'ulcer' wasn't caused by stomach cancer. If H. pylori caused your ulcer, testing to see if the disease is gone is recommended. This should be completed at least one month after the combo treatment class ended.
Dr. Vatsal Mehta of Alfa Gastro and Liver Care Hospital is one of Ahmedabad's most renowned specialists. Please contact us right away if anyone in your family is experiencing Gastric ulcer problems. With our services, we would be delighted to assist you.