Symptoms of IBS with Constipation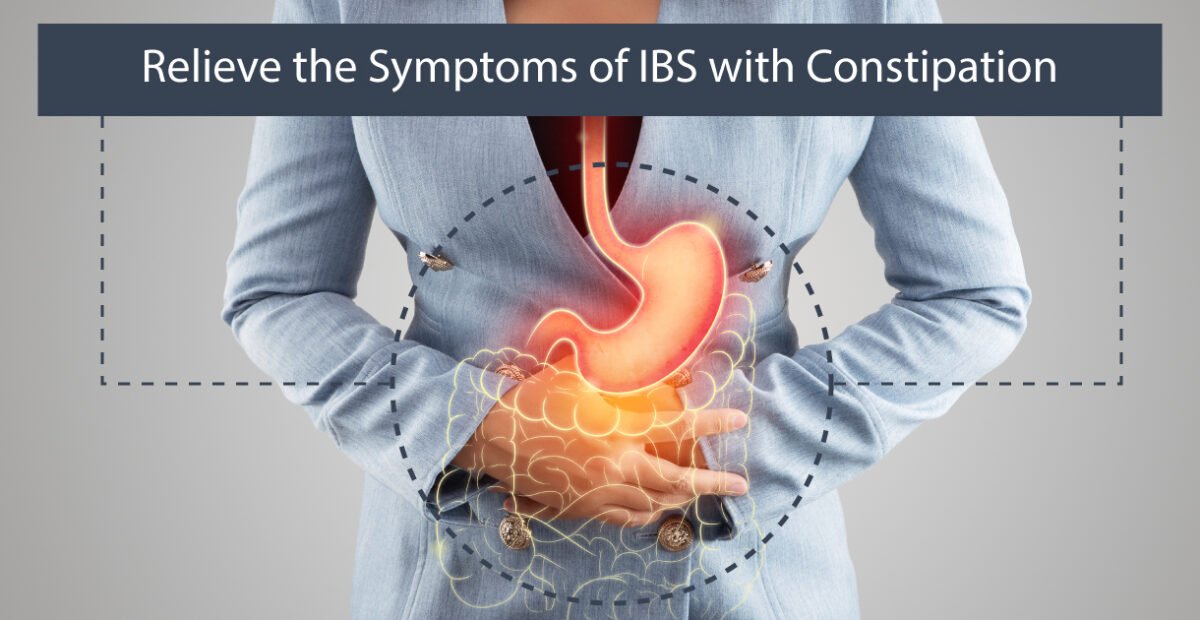 There are certain speculations about the cause of IBS-C or irritable bowel syndrome with constipation. Some of the main causes of this disease are said to be genetics, sensitive gut, digestive system infection and hormonal change. Among these causes, gut sensitivity is the most popular one and it simply means that your stomach is more sensitive than others due to some disturbances in the connection between your digestive system and brain.
What Constitutes IBS Symptoms?
IBS symptoms mainly include abdominal pain which can range from mild to severe and irregular bowel habits. Although abdominal pain is the most talked about symptom, gas and bloating are also some irritating signs of this disease. The severity of abdominal pain depends upon certain factors such as constipation, stress, and food.
What does it mean to get relief from IBS?
IBS relief does not mean completely treating this disease because the causes of this disease are still not completely understood rather patients seek to get relief from the pain caused due to IBS-C. To get relief from the symptoms it is important to manage the factors they depend upon. This management include:
Reducing your daily stress
As the peristalsis movement of the gut is heavily influenced by stress, it is necessary for IBS patients to manage their regular stress levels by including various meditational and exercise activities such as:
Cold plunge therapy
Wim Hoff Breathing exercise
Conscious meditation
Yoga poses
Needling therapy
Diet management
What to eat?
It may sound a cliché that eating a well-balanced diet is necessary, but clichés are cliché because they are true. For IBS patients, the foods they take play the primary role in regulating their symptoms. A healthy plate for this patient includes carbohydrate and fibre sources more than protein foods with a regular intake of fruits. It is important for the patient to choose the right fibre source. To understand this, one should know that fibre from bran does not break down in the digestive system and can cause abdominal pain while fibre such as psyllium easily breaks down.
Although there will be much advice given to you about the things you should and shouldn't eat for your condition, still it is your task to keep a track of foods which suit you well and the foods which do not. The response to certain foods such as dairy products tends to vary from person to person when it comes to IBS.
Lastly drink at least 3 litres of water to have a better functional intestine.
When to eat?
Eating frequently helps to not let the gases develop in the gut but one should have their meals in small portions to get relief from abdominal pain caused due to IBS.
Medicine
Laxatives
There are medications which help to retain more water in the waste to make bowel movement smooth and frequent. This can help to get rid of constipation and impliedly remove abdominal pain. These medicines mainly include polyethene glycol and are sold under various brand names. Although these over-the-counter laxatives do not remove all the symptoms of IBS, they still promote frequent bowel movements.
Antispasmodic medicines
These medicines help to relax muscles in the digestive system to remove cramping. You should always take advice from your physician to choose the best kind of antispasmodic for you.
Antidepressants
If your IBS symptoms are directly dependent upon your level of stress, some antidepressants such as selective serotonin reuptake inhibitors and tricyclic antidepre may help.
Probiotics
These contain healthy bacteria in the form of pills or liquids and help with the symptoms such as gas and bloating.
Talking to a physician may be the only option for some patients
IBS with constipation is such a disease which needs proper examination by a skilful practitioner to help you have a subjective treatment suitable for you. Questions like the side effects of the treatment and dosage of it are necessary for patients to ask their physicians. You should be in the close advisory of a gastroenterologist if you are:
Suffering from varying symptoms of IBS
Your disease is accompanied by severe symptoms such as rectal bleeding
Of an old age
Conclusion
The treatment for IBS-C is not specific to all patients rather every treatment option depends upon the response of the patient to that specific treatment. However, you might get relief from medicines or lifestyle changes. In many cases, a combination of medicines, dietary changes and lifestyle change help to relieve the different symptoms of IBS-C.
Having an experienced practitioner who has all the knowledge about your family history of diseases, symptoms and their severity can help you to attain an optimum lifestyle to help relieve the symptoms.
Are you suffering from IBS and constipation? Book an appointment to get rid of this issue easily. Dr. Vatsal Mehta is one of the best gastroenterologists in Ahmedabad known for proving all gastro and liver treatments.