Exploring the Significance of Stomach Biopsies: Unveiling Diagnostic Insights and Purposes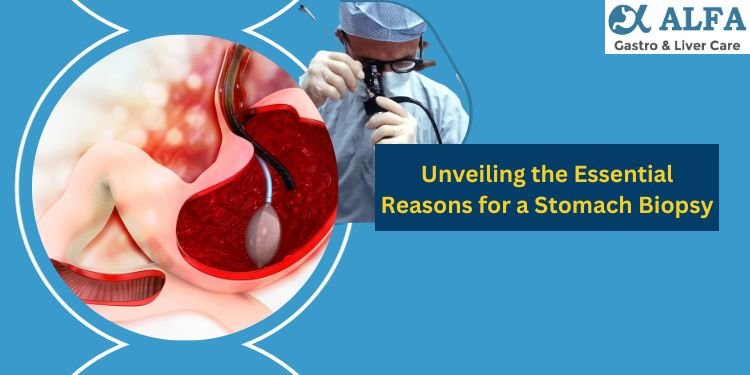 Stomach Biopsy: An Essential Diagnostic Tool
The stomach biopsy, a medical procedure involving the collection of tissue samples from the stomach lining, serves as a critical diagnostic tool in uncovering various stomach-related conditions. Understanding the reasons behind performing a stomach biopsy and what insights it can reveal is pivotal in comprehending its importance in healthcare.
Chronic Gastric Conditions:
Individuals experiencing prolonged gastric issues, such as chronic gastritis or ongoing stomach inflammation, may require a biopsy to pinpoint the cause. Biopsies aid in identifying the specific type of inflammation, which can range from bacterial infections like H. pylori to autoimmune diseases affecting the stomach lining.
Ulcer Evaluation:
For those with recurrent ulcers or ulcers that are not healing as expected, a biopsy becomes crucial. The examination of the tissue samples can confirm the presence of Helicobacter pylori bacteria, a common cause of ulcers, and determine the appropriate treatment.
Suspicion of Cancer:
In cases where there's a suspicion of stomach cancer or its precursors like gastric polyps, a biopsy is vital for an accurate diagnosis. Analyzing the tissue samples under a microscope helps in identifying cancerous cells or abnormalities that indicate the likelihood of malignancy.
Evaluation of Lesions or Abnormalities:
When imaging tests or endoscopies reveal unusual lesions, growths, or abnormalities in the stomach lining, a biopsy is often recommended. This procedure aids in determining the nature of these anomalies, whether they are benign, pre-cancerous, or cancerous.
Monitoring Treatment Effectiveness:
For individuals undergoing treatment for specific stomach conditions, biopsies may be conducted to assess the effectiveness of the treatment. This monitoring helps in evaluating the progress and making necessary adjustments to the treatment plan if required.
Investigation of Unexplained Symptoms:
Sometimes, patients may exhibit persistent symptoms without a clear diagnosis. A biopsy can help in uncovering underlying issues that might not have been detected through other diagnostic methods.
What Can a Stomach Biopsy Reveal?
Disease Identification: A stomach biopsy can reveal the presence of infections, chronic conditions, or malignancies, enabling healthcare providers to offer precise treatment plans tailored to the specific diagnosis.
Severity Assessment: It helps in understanding the severity of the condition, determining whether it is in its early stages, advanced, or benign, influencing the course of treatment.
Treatment Efficacy: Biopsies are instrumental in assessing the effectiveness of ongoing treatments, guiding healthcare professionals in making adjustments or modifications to the current therapy.
Unveiling Unexplained Symptoms: In cases of unresolved symptoms without a clear diagnosis, a biopsy can unveil underlying issues that might not have been evident through other diagnostic methods.
Conclusion:
Stomach biopsies play a crucial role in diagnosing and managing a spectrum of stomach-related conditions, from infections to cancer. They offer invaluable insights that guide medical professionals in creating tailored treatment plans. Understanding the reasons for a stomach biopsy and the diagnostic potential it holds is essential for individuals seeking clarity and effective management of stomach ailments. Always consult with a healthcare provider for personalized guidance regarding the necessity of a stomach biopsy based on individual health concerns.
Alfa Gastro and Liver Care: Your Trusted Experts in Gastroenterology
At Alfa Gastro and Liver Care, we take pride in being your dedicated experts in gastroenterology. With a commitment to exceptional patient care and the latest advancements in the field, our team of specialists offers comprehensive gastrointestinal services to address a wide range of digestive health concerns.
Our Practice:
Alfa Gastro and Liver Care is a leading practice dedicated to the diagnosis, treatment, and prevention of digestive system disorders. We understand the impact these conditions can have on your daily life, which is why we focus on providing compassionate care combined with cutting-edge medical expertise.
Why Choose Alfa Gastro and Liver Care:
When you choose Alfa Gastro and Liver Care, you're choosing a team dedicated to providing personalized, compassionate care that prioritizes your digestive health. We're committed to delivering the highest standards of gastroenterology care, ensuring that you receive the best possible treatment and support on your journey to improved digestive wellness.
Contact us today to schedule an appointment and experience the difference with Alfa Gastro and Liver Care – your trusted experts in gastroenterology.