Hiatal Hernia: Causes, Symptoms and Treatments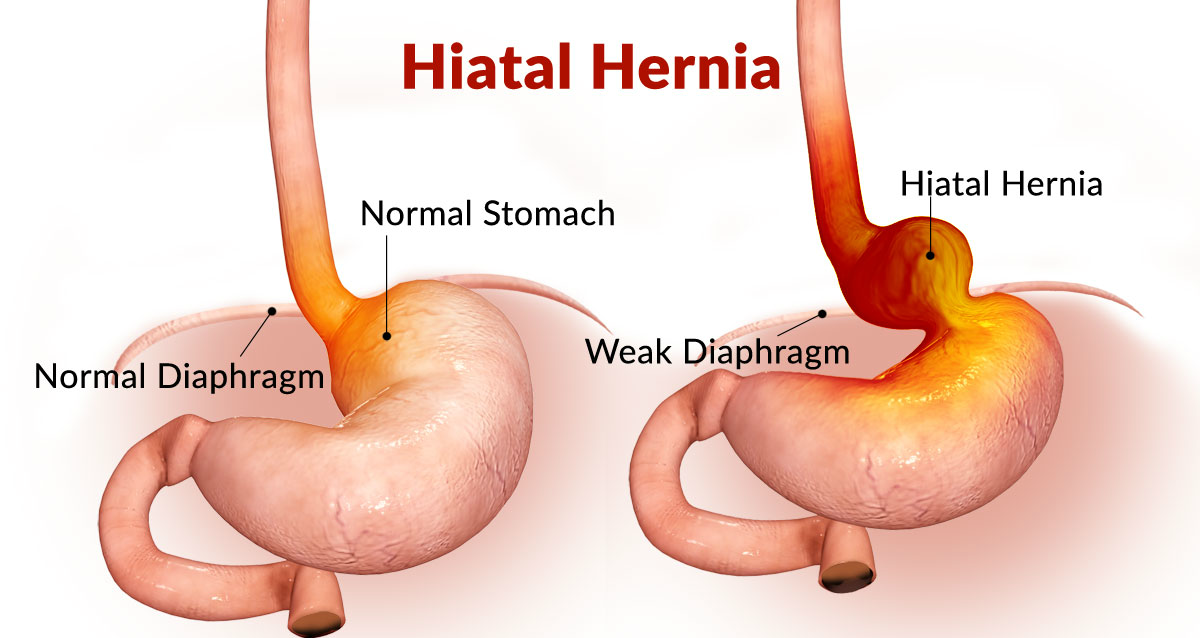 A Hiatal Hernia occurs when a hole in your diaphragm, the tissue that spans two places, allows your belly to bulge up into your chest. The hiatus is the gap; hence this ailment is also known as a hiatus hernia.
The two most common kinds of Hiatal Hernia are Paraesophageal and sliding.
Your esophagus normally passes through the gap and connects to your stomach. Your tummy and the bottom part of your esophagus slide up into your chest through your diaphragm in a moving Hiatal hernia.
The dangers of a paraesophageal hernia are greater. Your esophagus and stomach remain in their normal positions, but a portion of your stomach squeezes through the gap to sit adjacent to your esophagus. It's possible that your stomach will become suffocated and lose its blood supply. This is known as a strangulated hernia by your surgeon.
Symptoms of Hiatal Hernia
Most persons with Hiatal hernia are completely unaware of their condition. Some people may have:
Pain in the chest
Burping
You have a bad taste in your mouth
Food or fluids from your belly flows back into your mouth.
Gastroesophageal reflux disease can cause heartburn
Bloating
Having difficulty swallowing
Vomiting and an unsettled stomach
Breathing problems
You can get medical treatment for a Hiatal hernia if you are facing these given problems:
Consistent stomach pains
Unable to defecate or pass gas.
Chest or stomach pains that are unbearable
Vomiting
These symptoms of Hiatal Hernia could indicate a strangulated hernia or blockage, both of which are medical issues.
Causes of Hiatal Hernia
Doctors are baffled as to why most Hiatal hernias occur. Among the possible causes of Hiatal Hernia is:
The area has been injured
Pregnancy, being overweight, sneezing, pulling anything weighty, or straining on the toilet can all cause an increase in stomach pressure
Being born with a wider Hiatal aperture than is typical
Your diaphragm changes with age
Treatment for Hiatal Hernia
Most patients are unaware of the symptoms of a Hiatal hernia and do not require treatment for Hiatal Hernia.
If you have heartburn, your doctor may recommend one or more of the following drugs to alleviate the symptoms:
H-2 receptor blockers or proton pump inhibitors can reduce the amount of acid produced by your tummy.
Antacids are used to reduce stomach acid production.
Prokinetics will strengthen your esophageal sphincter, which prevents acid in the stomach from backing up into your esophagus. These also aid in the function of the tissues of your esophagus and the emptying of your stomach.
If you have a paraesophageal hernia, your doctor may recommend surgery to prevent your tummy from becoming choked. Sliding hernias that leak or become big, strangulated, or infected may require medical attention.
Your surgeon will fortify your hiatus and shift your stomach during surgery. Laparoscopy is a technique used in many Hiatal hernia operations. A few small (5 to 10 millimeter) cuts will be made in your stomach by your surgeon. A laparoscope is inserted via these holes and transmits images to a screen, allowing your doctor to see inside your stomach.
Traditional operations feature larger wounds, a higher risk of infection, less suffering and scars, and a longer recovery time. These "minimally invasive" treatments have smaller cuts, a lower risk of infection, less pain and scarring, and a quicker recovery. In two weeks, you should be able to resume normal activity.
Lifestyle Changes and Home Remedies for Hiatal Hernia
Acid reflux symptoms can be alleviated by making some lifestyle modifications. They are as follows:
Wearing tight belts or garments that put pressure on your stomach is not a good idea.
Smoking is prohibited. Heartburn is exacerbated by smoking.
After you eat, wait for 3 to 4 hours before exercising or sleeping.
For the first 2-3 weeks after surgery, a mushy and light food diet is very important.
Smaller meals (four or five modest meals per day) and slower eating are recommended.
Acidic foods such as orange juice, cola, and tomato sauce should be avoided.
Reduce your intake of fried and fatty meals, as well as wine, vinegar, chocolates, and caffeine.
6 inches off the ground, raise the head of your bed.
Get rid of the additional pounds.
These are some of the causes of Hiatal hernia. There is no need for anyone to be concerned about these issues. You can see Dr. Vatsal Mehta for treatment for Hiatal hernia issues. Every patient will receive the greatest possible care from him. His hospital ALFA Gastro and Liver care is in Ahmedabad. A patient should get an appointment easily with our doctor.