Causes, Symptoms & Treatment of Pancreatitis Disease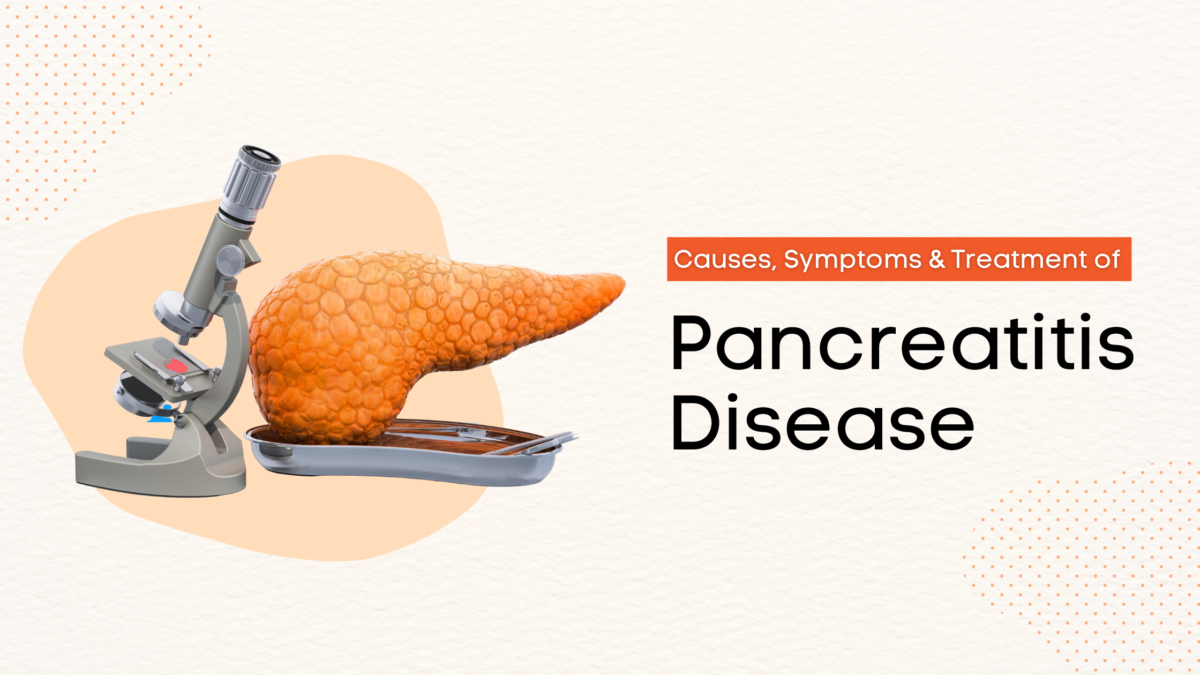 Pancreatitis is an inflammatory illness that affects the pancreas. It can begin quickly and linger for days, or it might develop gradually over time. Gallstones and long-term, heavy alcohol consumption are two common causes.
Pancreatitis function can be commonly caused by gallstones. Gallstones that have formed in the gallbladder might obstruct the bile duct. This forces pancreatic enzymes back into the pancreas by preventing them from getting to the small intestine.
Pancreatitis is divided into two types:
This refers to pancreatitis that develops over time.
It emerges out of nowhere and lasts for days
Pancreatitis Function
The pancreas serves two purposes. It begins by secreting digesting enzymes into the small intestine. Food is broken down by these enzymes, which break down carbs, proteins, and lipids.
The pancreas function also manufactures and distributes hormones into the bloodstream. Insulin, which controls the quantity of sugar in your blood, is just one of those hormones.
Symptoms of Pancreatitis
The symptoms of pancreatitis differ depending on the type of disease:
Chronic Pancreatitis Symptoms:
Weight loss that hasn't been explained.
Pain in the upper abdomen
Diarrhea that is foamy and has oil droplets evident
If insulin-producing pancreatic cells are destroyed, diabetes develops.
Symptoms of Acute Pancreatitis:
Vomiting
Back discomfort that originates in the abdomen
When you touch your abdomen, it feels tender.
Pain in the upper abdomen
Nausea
Rapid pulse
Fever
Treatment for Pancreatitis
Your basic care physician will most likely send you to an expert if you have Pancreatitis disease. Your care should be overseen by a gastroenterologist.
Pancreatitis acute treatment can be treated by one or more of the following methods:
To provide relief from pain, pain medication is prescribed.
If your pancreas isn't working properly, use pancreatic enzymes and insulin supplements.
Supportive treatment and supervision in a hospital setting.
Endoscopic treatment or technique to remove a gallstone, other obstruction, or injured pancreas portion.
Treatment Options for Pancreatitis
The majority of pancreatitis function issues, such as pancreatic pseudocysts or diseased pancreatic tissue, are treated by endoscopic surgery. Endoscopic treatment is used to remove gallstones and pancreatic stones.
Surgeons can usually perform a laparoscopic operation if the operation is required. This surgical approach uses fewer incisions that heal faster. A laparoscope is inserted through keyhole-sized cuts in your belly during laparoscopic surgery. The laparoscope delivers images of your organs on a screen, which the surgeon can use to guide him or her through the treatment.
Pancreatitis Location
The pancreas is a large, flattened gland in the upper belly that lies behind the belly. Its pancreas generates digestive enzymes as well as hormones that regulate how your body consumes sugar.
Causes of Pancreatitis
Pancreatitis is frequently caused by gallstones or excessive alcohol consumption. A number of things can cause pancreatitis, including:
Infections
Diabetes is an example of a metabolic illness.
Medicines (many can irritate the pancreas).
Cystic fibrosis is a genetic condition.
Triglyceride levels that are too high (fat in the blood).
Injury to the abdomen.
When Should You Visit a Gastroenterologist?
When you experience persistent abdominal pain, schedule an appointment with the best gastroenterologist Dr. Vatsal Mehta in Ahmedabad. If your stomach pain is making it impossible for you to sit still or find a position that is more relaxing, seek medical care right away at Alfa Gastro and Liver Care hospital.