Understanding Acidity: Causes and Effective Treatments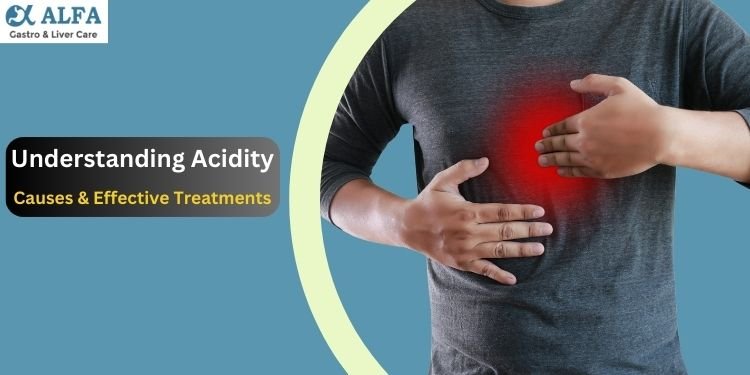 Acidity, often referred to as acid reflux or heartburn, is a common digestive problem that affects millions of people worldwide. It occurs when the acid from your stomach flows back into your esophagus, causing a burning sensation and discomfort. In this blog post, we will delve into the causes of acidity and explore effective treatments to alleviate this uncomfortable condition.
What Should Be Eaten in Acidity?
Acidity, often referred to as acid reflux or heartburn, can be managed and alleviated through dietary choices. Choosing the right foods can help reduce the symptoms of acidity and promote digestive comfort. Here's a list of foods that are generally considered safe and beneficial for individuals with acidity:
Non-Citrus Fruits: Opt for fruits like bananas, melons, apples, and pears. These fruits are less likely to trigger acid reflux compared to citrus fruits like oranges and lemons.
Vegetables: Most vegetables are well-tolerated by individuals with acidity. However, it's a good idea to avoid or limit onions and tomatoes, as they can be acidic.
Lean Proteins: Choose lean sources of protein like poultry, fish, and lean cuts of beef or pork. These options are less likely to provoke acid reflux compared to fatty or fried meats.
Complex Carbohydrates: Whole grains, such as oatmeal, brown rice, and whole wheat bread, are excellent choices. They are less likely to cause acidity compared to refined grains.
Dairy: Opt for low-fat or fat-free dairy products like milk, yogurt, and cheese. Avoid full-fat dairy, as high-fat foods can trigger acid reflux.
Herbs and Spices: Ginger, fennel, and parsley are known for their digestive benefits and can be added to meals to help soothe acidity.
Green Leafy Vegetables: Foods like spinach and kale are alkaline and can help neutralize stomach acid.
Water: Staying hydrated with plain water is essential to dilute stomach acid and maintain proper digestion.
What Should Not Be Eaten in Acidity?
To manage acidity effectively, it's equally important to avoid foods and beverages that can exacerbate symptoms or trigger acid reflux. Here's a list of items that should be limited or avoided:
Citrus Fruits: Oranges, lemons, grapefruits, and their juices are highly acidic and can worsen acidity.
Tomatoes: Tomato-based products like tomato sauce and ketchup are acidic and may trigger acid reflux.
Spicy Foods: Spices like chili peppers and hot sauces can irritate the esophagus and lead to heartburn.
Fatty and Fried Foods: High-fat meals, such as fried foods, buttery dishes, and creamy sauces, relax the lower esophageal sphincter (LES) and can cause acid to flow back into the esophagus.
Caffeine: Coffee, tea, and certain sodas are known to relax the LES and stimulate stomach acid production.
Alcohol: Alcoholic beverages can irritate the esophagus and increase the likelihood of acid reflux.
Mint: While often used as a digestive aid, mint can relax the LES, potentially worsening acidity.
Carbonated Beverages: Soda and carbonated drinks can introduce gas into the digestive system, leading to increased pressure and acid reflux.
Causes of Acidity
Acidity, also known as acid reflux or heartburn, occurs when stomach acid flows back into the esophagus, causing a burning sensation and discomfort. Several factors can contribute to the development of acidity, including:
Weak Lower Esophageal Sphincter (LES):

The LES is a muscular ring at the junction of the esophagus and the stomach. It acts as a valve, preventing the backward flow of stomach acid into the esophagus. When the LES weakens or relaxes inappropriately, it allows stomach acid to reflux into the esophagus, leading to acidity.

Dietary Choices:

Consuming foods and beverages that are known triggers for acid reflux can contribute to acidity. Common dietary triggers include spicy foods, citrus fruits, tomatoes, chocolate, caffeine, alcohol, and high-fat or fried foods.

Large Meals and Overeating:

Eating large meals or consuming excessive amounts of food can increase the pressure on the stomach, leading to the backflow of acid into the esophagus. Eating too quickly can also contribute to this issue.

Lying Down After Eating:

Reclining or lying down immediately after a meal can make it easier for stomach acid to flow back into the esophagus.

Obesity:

Excess body weight, particularly around the abdomen, can put pressure on the stomach and LES, promoting acid reflux.

Pregnancy:

Hormonal changes during pregnancy can relax the LES, leading to increased occurrences of acidity in pregnant women.

Smoking:

Smoking can weaken the LES, making it less effective in preventing acid reflux.

Medical Conditions:

Certain medical conditions can contribute to acidity, including hiatal hernia, which occurs when a portion of the stomach protrudes through the diaphragm, and gastroparesis, a condition in which the stomach takes longer to empty its contents.

Medications:

Some medications, such as non-steroidal anti-inflammatory drugs (NSAIDs), muscle relaxants, and certain blood pressure medications, can relax the LES or irritate the esophagus, increasing the risk of acid reflux.

Stress and Anxiety:

High levels of stress and anxiety can affect digestive processes, potentially exacerbating acidity in some individuals.

Delayed Gastric Emptying:

When the stomach takes longer than usual to empty its contents into the small intestine, it can increase the likelihood of acid reflux.
Treatment of Acidity
Managing acidity involves not only making appropriate dietary choices but also considering various treatment options. Here are some common approaches to treating acidity:
Antacids: Over-the-counter antacids can provide quick relief by neutralizing stomach acid.
H2 Blockers: Histamine-2 receptor blockers, available both over-the-counter and by prescription, reduce acid production and provide longer-lasting relief.
Proton Pump Inhibitors (PPIs): These prescription medications are highly effective in reducing acid production but should be used under a doctor's supervision.
Lifestyle Modifications: Implementing lifestyle changes such as eating smaller, more frequent meals, avoiding lying down immediately after eating, and maintaining a healthy weight can help manage acidity.
Elevating the Head of the Bed: Sleeping with the upper body elevated can prevent acid reflux during the night.
Avoiding Triggers: Identify and avoid specific foods, beverages, and habits that trigger acid reflux.
Stress Management: Stress can exacerbate acidity, so practicing stress-reduction techniques like meditation and yoga may be beneficial.
Prescription Medications: In severe cases, a healthcare provider may prescribe stronger medications or recommend tests to assess the condition further.
It's essential to consult with a healthcare professional to determine the most suitable treatment plan for your specific case of acidity. By making informed dietary choices and incorporating appropriate treatments, you can effectively manage acidity and improve your digestive comfort.
Conclusion
Acidity can be a troublesome condition, but understanding its causes and seeking appropriate treatment can bring relief. Lifestyle modifications, over-the-counter medications, and prescription drugs can help manage acidity effectively. It's essential to consult with a healthcare professional to determine the most suitable treatment plan for your specific situation. By addressing the causes and symptoms of acidity, you can enjoy better digestive health and an improved quality of life.
If you're grappling with acidity issues, don't hesitate to schedule an appointment with our experienced specialists at Alfa Gastro and Liver Care, where we offer top-notch acidity treatment. To secure your consultation, you can easily use the 'Book Appointment' form or contact us via the mobile number conveniently located at the top right corner of this page.