What is burning diarrhea and how to prevent it?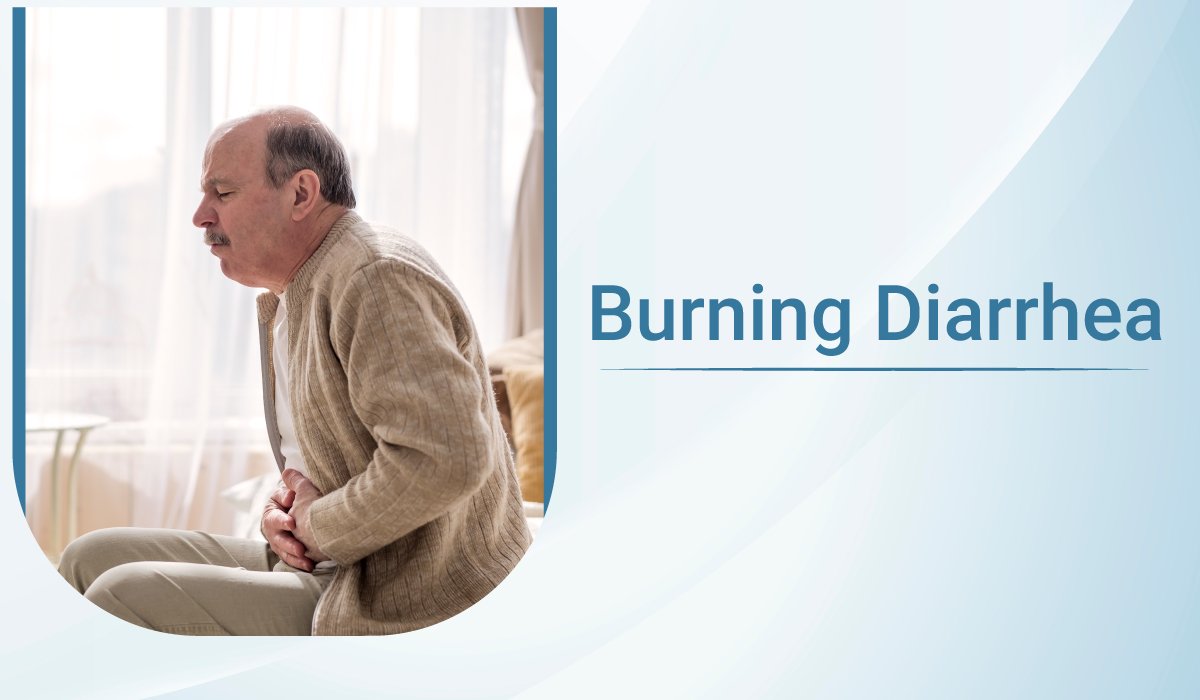 Burning diarrhea is a condition characterized by a painful, burning sensation in the anus during bowel movements, often accompanied by loose, watery stools. Other symptoms may include abdominal cramping, nausea, and dehydration. It can be caused by a variety of factors, including gastrointestinal infections, food allergies, medications, inflammatory bowel disease, and other medical conditions. The prevalence of burning diarrhea varies depending on the underlying cause, but it is a common symptom of gastrointestinal disorders. In some cases, burning diarrhea can be a sign of a more serious condition, so it's important to consult a healthcare provider if you experience persistent or severe symptoms.
What causes burning diarrhea?
There are several potential causes of burning diarrhea, ranging from mild to severe. Some of the most common causes include:
Gastrointestinal infections: Viruses, bacteria, and parasites can cause stomach burning diarrhea and other symptoms like abdominal cramps and nausea. These infections are often spread through contaminated food or water and can be treated with medication.
Food allergies and intolerances: Some people may experience burning diarrhea and other digestive symptoms after consuming certain foods, such as dairy or gluten. These food-related causes of burning diarrhea can often be managed through dietary changes.
Medications: Certain medications, such as antibiotics or laxatives, can irritate the stomach lining and cause burning diarrhea. It's important to speak with a healthcare provider about any potential side effects of medications.
Inflammatory bowel disease (IBD): Inflammatory bowel disease (IBD) is a chronic condition that can cause inflammation and damage to the digestive tract, leading to burning diarrhea and other symptoms like abdominal pain and fatigue.
Irritable bowel syndrome (IBS): IBS is a functional disorder that affects the muscles and nerves in the digestive tract, leading to stomach burning diarrhea, bloating, and other symptoms.
What are the complications of untreated burning diarrhea?
If left untreated, burning diarrhea can lead to several complications. One of the most significant complications of burning diarrhea is dehydration, which can occur due to the loss of fluids through diarrhea. This can be particularly dangerous for young children, the elderly, and those with weakened immune systems. In addition to dehydration, untreated burning diarrhea can also cause electrolyte imbalances, which can lead to further health issues. Moreover, untreated burning diarrhea can exacerbate the underlying causes of the condition, such as gastrointestinal infections or inflammatory bowel disease. These conditions may worsen without proper burning diarrhea treatment, leading to further complications and potential long-term health effects.
When to seek medical attention for burning diarrhea?
Burning diarrhea can be a concerning symptom, and it's important to seek medical attention if you experience persistent or severe symptoms. Some potential warning signs that warrant seeking medical help include:
Blood in the stool: If you notice blood in your stool, it may be a sign of a more serious underlying condition, such as inflammatory bowel disease or colon cancer.
Persistent or severe symptoms: If your stomach burning diarrhea lasts for more than a few days, or if it's accompanied by other symptoms like fever, vomiting, or severe abdominal pain, it's important to seek medical attention. These symptoms could indicate a more severe underlying condition that requires prompt treatment.
Dehydration: If you experience burning diarrhea, you may be at risk for dehydration due to the loss of fluids. Signs of dehydration can include dry mouth, increased thirst, and decreased urine output.
Weakened immune system: If you have a weakened immune system due to an underlying medical condition or medication use, you may be at higher risk for complications of burning diarrhea.
Prevention and treatment of burning diarrhea
Preventive measures:
Good hygiene: Practicing good hygiene, such as washing hands thoroughly before eating and after using the bathroom, can help prevent the spread of gastrointestinal infections that can cause burning diarrhea.
Proper food handling: Properly handling and cooking food can help prevent food borne illnesses that may cause stomach burning diarrhea.
Dietary modifications: If you have identified certain foods that trigger your burning diarrhea, avoiding or limiting those foods may help prevent symptoms.
Staying hydrated: Drinking plenty of fluids can help prevent dehydration that may occur with burning diarrhea.
Treatment options:
Medications: Depending on the underlying cause of burning diarrhea, medications may be prescribed to help manage symptoms or treat the underlying condition. For example, antibiotics may be prescribed to treat a bacterial infection, while anti-inflammatory medications may be used to treat inflammatory bowel disease.
Dietary changes: In some cases, making changes to your diet may be recommended to manage burning diarrhea symptoms. For example, avoiding certain foods that trigger symptoms, increasing fibre intake, or following a low FODMAP diet may help alleviate symptoms.
Probiotics: Probiotics may help promote the growth of beneficial bacteria in the gut, which can help improve digestion and alleviate symptoms of burning diarrhea.
Lifestyle modifications: Making lifestyle modifications, such as managing stress levels, getting regular exercise, and getting enough sleep, can also help alleviate symptoms of burning diarrhea.
Conclusion
Burning diarrhea can be a concerning symptom that can be caused by a variety of underlying conditions. Some common causes of burning diarrhea include gastrointestinal infections, food intolerances, and inflammatory bowel disease. Symptoms can range from mild to severe and may include stomach burning and diarrhea, abdominal pain, and dehydration. If you experience persistent or severe symptoms of burning diarrhea, it's important to seek medical attention to determine the underlying cause and receive appropriate burning diarrhea treatment.
Dr. Vatsal Mehta is a highly qualified healthcare provider who can help you diagnose and treat burning diarrhea. Depending on the cause of your symptoms, treatment options may include medication, dietary changes, probiotics, or lifestyle modifications. By seeking prompt medical attention and following recommended treatment, many cases of burning diarrhea can be resolved without significant long-term consequences. To fix an appointment with the gastroenterologist you need, contact Alfa Gastro and Liver Care.