What Exactly Is Gluten? Here's Everything You Need to Know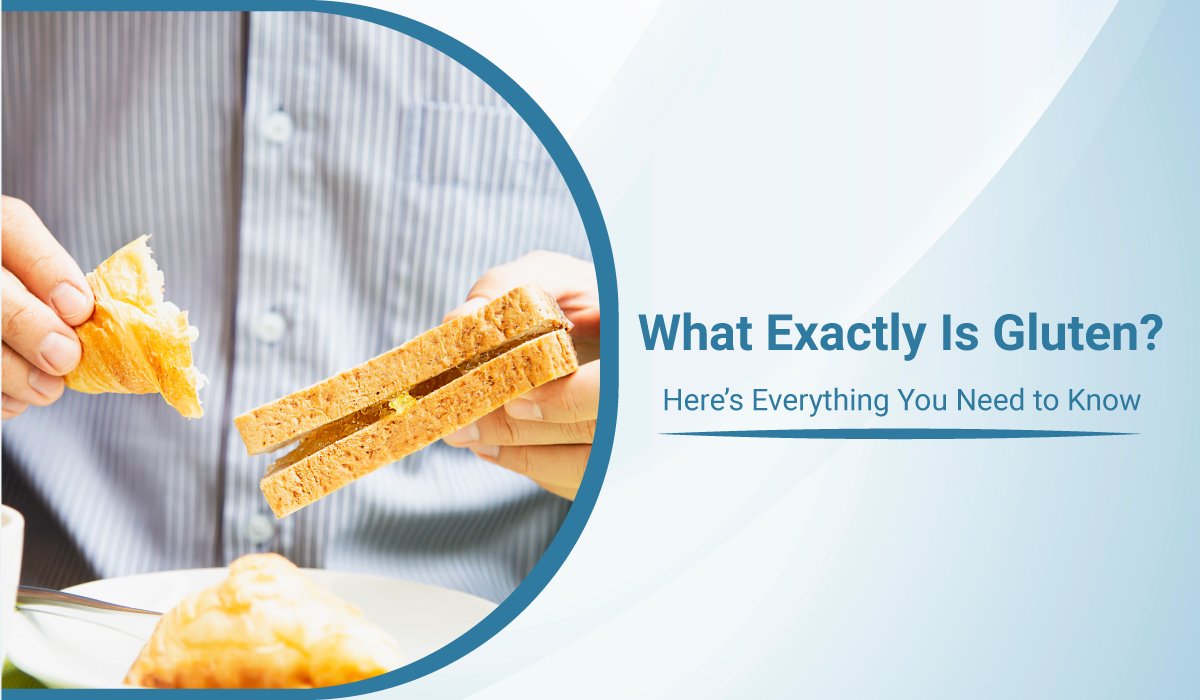 Wheat, barley, rye, and triticale protein are generally known as gluten. Gluten is present in all wheat varieties, including farrow, spelled, and durum. Gluten is present in many everyday food items, including pasta, bread, and beer. However, several less obvious foods also contain gluten.
Many people respond negatively to gluten after consuming it, necessitating adherence to a gluten-free diet to prevent consequences. We go into more detail on gluten on this page, including what it is, who should avoid it, and what foods contain it.
Meaning of Gluten
The family of proteins known as gluten is present in all varieties of wheat, barley, rye, and triticale. These proteins support food binding and shape preservation. Gluten is frequently found in wheat-based products such as bread, baked goods, crackers, cereals, and pasta. Additionally, it's a component of beer, malt vinegar, food coloring, and other items made from barley. These gluten-containing grains can also be found in less evident meals like:
soups
sauces
salad dressings
A person may require a gluten-free diet for several reasons, including:
Gluten sensitivity: Someone sensitive to gluten may experience headaches, lethargy, bloating, diarrhea, and constipation after ingesting gluten. Gluten restriction could help with these symptoms
Celiac disease: This autoimmune condition in which a gluten intolerance can harm the small intestine and cause intestinal damage, inadequate nutrient absorption, and discomfort. Some people with celiac disease do not exhibit any symptoms
A stringent gluten-free diet must be followed by those who have celiac disease. Others adopt a gluten-free diet for various health reasons, including weight loss. However, some people without celiac disease or a gluten allergy also suffer symptoms comparable to those with these diseases. Non-celiac gluten sensitivity is what this is (NCGS).
The World Journal of Gastroenterology claims that NCGS may be connected to a few psychiatric conditions, including anxiety and sadness, as well as a few autoimmune conditions, such as:
Hashimoto's thyroiditis
Rheumatologic diseases
Psoriasis
Avoiding gluten may benefit people who do not have celiac disease but experience other conditions, such as irritable bowel syndrome (IBS) and eosinophilic esophagitis. Recent studies have also raised the possibility that NCGS is an autoimmune gut illness. Other studies suggest that NCGS may be caused by genetic, environmental, or pathological factors, as well as alterations in the gut flora.
Can gluten harm you?
Several real medical issues prevent some people from tolerating gluten. Celiac disease, an autoimmune ailment in which consuming gluten damages the small intestine, is the most prevalent.
Some people think gluten should be avoided because it is bad for everyone. There isn't a lot of research to back this up yet. A 2017 BMJ study followed more than 100,000 adults without celiac disease over 26 years. The risk of heart disease was not linked to long-term dietary gluten use, contrary to the fears of medical professionals and the general public.
Over 160,000 women without celiac disease were evaluated in a study published in the American Journal of Gastroenterology in 2019. Scientists concluded that dietary gluten consumption in adulthood was not associated with an increased risk of microscopic colitis, also known as inflammation of the colon lining.
As long as the individual eats a range of nutrient-rich whole food sources of carbohydrates, most dietitians are okay with going gluten-free. However, even if they don't have a medical condition that causes gluten intolerance, some people may still choose to avoid gluten. In conclusion, while you don't need gluten, you need various nutrients and carbohydrates that sustain your energy levels, both of which are readily available if you avoid gluten.
Avoiding gluten 
People who are avoiding gluten should carefully review ingredient labels. Looking at the label's section on allergies, one can determine whether a product includes wheat. Gluten-free products may or may not be marked as wheat-free. For instance, they might still have elements made from rye, barley, or spelled. Each of them contains gluten.
Lecithin, a hidden source of gluten, may be found in some non-food goods. Anyone who avoids gluten should constantly review the ingredients listed on the label of the following goods:
Prescription medicines, as well as over-the-counter (OTC) drugs
Herbal, vitamin, and mineral supplements
Cosmetics
Lip balm
Other skin- and hair-related items
Mouthwash and toothpaste
Stamps and envelopes with adhesive glue
Modeling clay
People with Celiac disease should also avoid foods or goods that may have ingested gluten. Cross-contact is often possible with the following:
Toasters
Colanders
Cutting surfaces
Foods that are fried in oil
Comparable containers
Utensils
Through cross-contamination, gluten is frequently found in oats. For gluten-free oats, look at the package labels.
On a gluten-free diet, it's safe to eat a variety of organic foods, including:
Fruits
Vegetables
Legumes
Meat
Dairy
Eggs
Seeds and nuts
Various starches, including quinoa, buckwheat, rice, potatoes, etc
When purchasing these products, always carefully inspect the packaging to ensure they do not include additional gluten. Products that typically contain gluten also come in gluten-free varieties. To make various meals, such as bread, cereals, cookies, or baked goods, gluten-free, the makers have swapped out certain ingredients. 
The requirement for a gluten-free diet should not be self-diagnosed
As gluten creates antibodies when a person with intolerance consumes it, they must have gluten in their body for an accurate diagnosis of celiac disease. Then, a doctor can recognize these. Before switching to a gluten-free diet, a person who believes that gluten or wheat products are the sources of discomfort or allergies should consult a physician or a qualified dietitian.
Lastly,
Alfa gastro and liver care is a specialized hospital in Ahmedabad, Gujarat, committed to offering high-quality care for digestive issues. A considerate physician who pays attention to his patient's difficulties is Dr. Vatsal Mehta. He is primarily considered Ahmedabad's top gastroenterologist physician. He has helped many patients over the years and intends to spread his services nationwide. We take satisfaction in successfully servicing clients in Ahmedabad, Gujarat, as a top endoscopic hospital and clinic center.
We have demonstrated that we can assist patients with their stomach and liver-related issues by offering our patients a wide range of services in Clinical Gastro, Endoscopic Ultrasound, Manometry, etc. Don't forget to immediately make an appointment with one of our top doctors by contacting us!