Celiac Disease and Diet: What to Eat and What to Avoid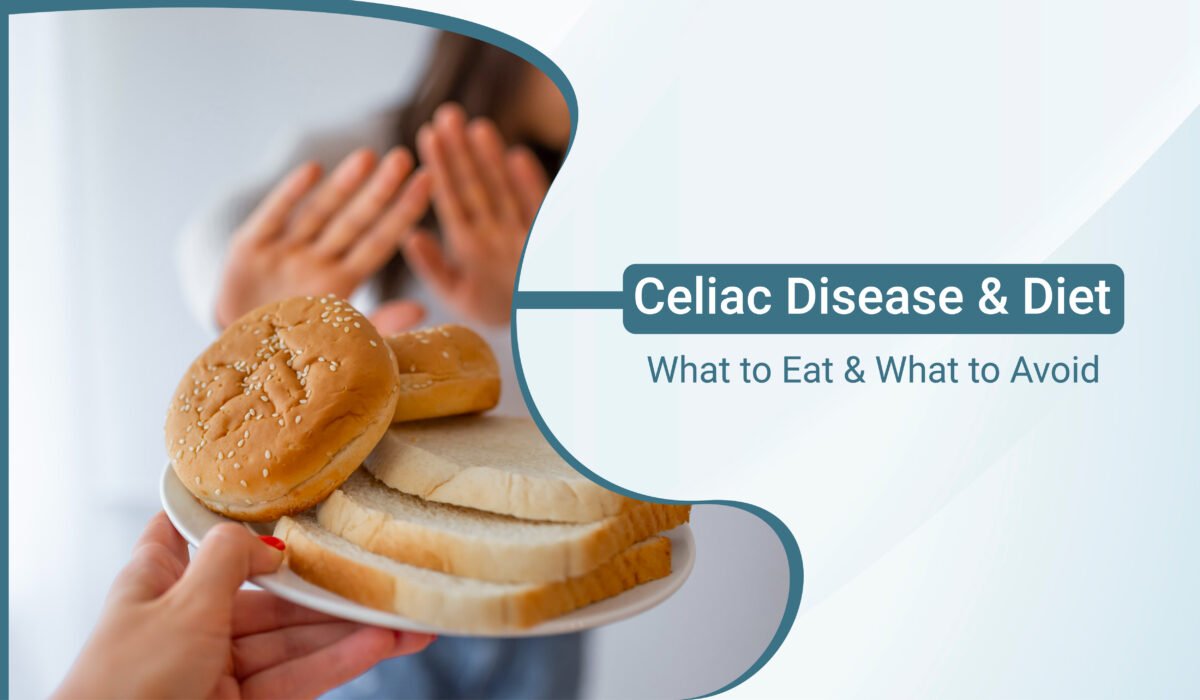 If you or someone you know has been diagnosed with celiac disease, you're in the right place. In this introductory article, we will explore the crucial connection between celiac disease and diet, focusing on what to eat and what to avoid. Celiac disease is an autoimmune condition that affects the small intestine, triggered by the consumption of gluten, a protein found in wheat, barley, and rye.
Adhering to a strict gluten-free diet is vital for managing the condition and preventing long-term health complications. In this blog series, we will guide you through the ins and outs of a celiac-friendly diet, providing insights into safe and delicious gluten-free alternatives and nutritious foods to incorporate. We will also highlight common sources of gluten to avoid. Join us as we navigate the world of celiac disease and empower you with the knowledge to make informed dietary choices for a healthier, gluten-free lifestyle.
Understanding Celiac Disease
Celiac disease refers to an autoimmune disorder characterized by an adverse reaction to gluten, a protein found in wheat, barley, and rye. When individuals with celiac disease consume gluten, their immune system triggers an inflammatory response that damages the lining of the small intestine. This damage interferes with the absorption of nutrients from food, leading to a wide range of symptoms and potential long-term complications.
The exact cause of celiac disease is not fully understood, but it is believed to involve a combination of genetic predisposition and environmental factors. The condition tends to run in families and is more common in individuals with certain genetic markers.
Symptoms of celiac disease can vary widely and may include gastrointestinal issues such as diarrhea, bloating, and abdominal pain, as well as fatigue, weight loss, anemia, and even neurological symptoms. However, some individuals may experience no noticeable symptoms, which can make diagnosis challenging.
The gold standard for diagnosing celiac disease is a combination of blood tests and a biopsy of the small intestine. Blood tests measure the levels of certain antibodies that are elevated in individuals with celiac disease, while the biopsy confirms the characteristic damage to the intestinal lining.
The only effective treatment for celiac disease is a strict, lifelong gluten-free diet. By eliminating gluten from their diet, individuals with celiac disease can alleviate symptoms, promote healing of the small intestine, and prevent complications. This means avoiding not only obvious sources of gluten but also hidden sources that may be present in processed foods, medications, and even some personal care products.
It is essential for individuals with celiac disease to work closely with healthcare professionals, such as dietitians or nutritionists, to ensure they are following a well-balanced gluten-free diet and to address any potential nutrient deficiencies. With proper management and adherence to a gluten-free lifestyle, individuals with celiac disease can lead healthy and fulfilling lives.
Foods to Avoid 
Explore a comprehensive list of foods that individuals with celiac disease should steer clear of, ensuring optimal health and symptom management.
By delving into the essentials of celiac disease, differentiating it from gluten sensitivity, and emphasizing the importance of a celiac disease diet, we aim to provide valuable insights and guidance for individuals navigating this condition. Stay tuned as we dive deeper into celiac disease and share practical tips for maintaining a healthy, gluten-free lifestyle.
Gluten: The Culprit for Celiac Disease
Gluten, a protein composite, is found in grains such as wheat, barley, and rye. It gives dough its elasticity and helps it hold together. While most individuals can consume gluten without any issues, people with celiac disease experience an adverse immune response to this protein.
In individuals with celiac disease, consuming gluten triggers an immune reaction that damages the small intestine's lining. The immune system mistakenly identifies gluten as a threat and launches an attack, causing inflammation and harm to the villi—tiny, finger-like projections responsible for nutrient absorption. As a result, the small intestine becomes compromised and is unable to effectively absorb essential nutrients from food.
Building a Gluten-Free Diet
Gluten-Free Grains and Flours:
When following a gluten-free diet, it's important to include alternative grains and flours that do not contain gluten. Some safe options include:
Quinoa
Corn (maize)
Buckwheat (despite its name, it is gluten-free)
Amaranth
Millet
Sorghum
Gluten-free oats (certified gluten-free, as cross-contamination can occur)
Additionally, there are various gluten-free flours available, such as almond flour, coconut flour, chickpea flour, and tapioca flour, which can be used as substitutes in baking and cooking.
Safe and Unsafe Ingredients: 
Understanding which ingredients are safe and which contain gluten is crucial for maintaining a gluten-free diet. Below mentioned are some key points to consider:
Safe ingredients: Fresh fruits, vegetables, lean meats, poultry, fish, eggs, dairy products, legumes, nuts, and seeds are generally safe and do not contain gluten in their natural form.
Unsafe ingredients: Avoid foods that contain wheat, barley, rye, and their derivatives. This includes products like bread, pasta, pastries, cereals, beer, and some condiments. Additionally, certain processed foods may contain hidden sources of gluten, such as sauces, soups, salad dressings, and pre-packaged meals.
Reading Food Labels:
When shopping for gluten-free products, it is crucial to carefully read food labels. Look for clear indications that the product is gluten-free or labeled with a certified gluten-free logo. Additionally, be aware of ingredients that may signal the presence of gluten, such as wheat, barley, rye, malt, and modified food starch (unless specified as gluten-free).
Cross-contamination can also be a concern, especially in shared manufacturing facilities or during food preparation. Look for labels that mention the product is manufactured in a dedicated gluten-free facility or undergoes strict testing for gluten content.
Foods to Enjoy on a Gluten-Free Diet
Fruits and Vegetables:
Fresh fruits and vegetables are naturally gluten-free and can be enjoyed freely on a gluten-free diet. They provide essential vitamins, minerals, and fiber. Incorporate a variety of colorful fruits and vegetables into your meals and snacks to ensure a well-rounded and nutritious diet.
Lean Meats and Fish:
Unprocessed lean meats, such as chicken, turkey, beef, and pork, are gluten-free and excellent sources of protein. Fish, including salmon, tuna, and cod, is also a great choice. Be cautious with processed meats, as some may contain hidden gluten in additives or seasonings, so always check the labels or opt for fresh, unseasoned options.
Legumes and Nuts:
Legumes and nuts, including almonds, walnuts, and cashews, are also safe options. They can be consumed as snacks, added to salads, or used as ingredients in gluten-free recipes.
Dairy Products:
Most dairy products, such as milk, yogurt, cheese, and butter, are naturally gluten-free. However, some individuals with celiac disease may experience lactose intolerance. In such cases, lactose-free or dairy alternatives like almond milk, coconut milk, or soy milk can be suitable options.
Gluten-Free Grains and Alternatives:
Include gluten-free grains and alternatives to replace traditional gluten-containing grains. Some examples include:
Rice (brown, white, wild)
Quinoa
Corn (maize)
Buckwheat
Amaranth
Millet
Sorghum
Gluten-free oats (certified)
These grains can be used as side dishes, in salads, or as ingredients in gluten-free baking and cooking.
Gluten-Free Baking and Snack Options:
There is a wide variety of gluten-free baking and snack options available in stores, as well as recipes to make at home. Look for gluten-free bread, pasta, crackers, and snack bars made specifically for individuals with celiac disease or gluten intolerance. Additionally, gluten-free baking can be achieved using alternative flours like almond flour, coconut flour, or gluten-free flour blends.
Remember to always read labels, as some gluten-free products may still contain potential cross-contamination or hidden sources of gluten.
By focusing on these food groups and incorporating a variety of options, individuals can enjoy a delicious and nutritious gluten-free diet while ensuring they meet their nutritional needs.
Conclusion
In the realm of celiac disease management, Dr. Vatsal Mehta stands as a distinguished authority, providing invaluable expertise and guidance to individuals navigating the challenges of a gluten-free diet. With his profound knowledge and dedication to the field, Dr. Mehta emphasizes the significance of working closely with healthcare professionals experienced in celiac disease management. Their expertise can ensure individuals receive the necessary support and education to build a well-balanced gluten-free diet, select safe ingredients, and address any dietary concerns or restrictions. By following Dr. Vatsal Mehta's advice, individuals can confidently embrace a gluten-free lifestyle, enjoying a diverse range of nutritious foods while effectively managing their celiac disease and promoting long-term health and well-being.