The Importance of Early Detection: Celiac Disease in Children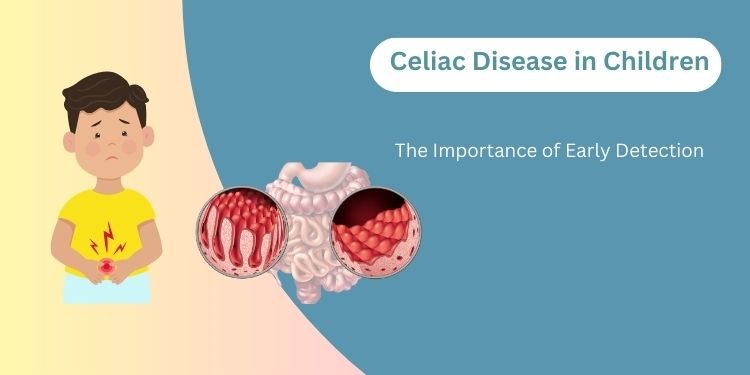 Celiac disease is an autoimmune disorder that affects millions of people worldwide. While it can develop at any age, its impact on children is particularly significant. In this blog post, we'll explore why early detection of celiac disease in children is crucial and how it can lead to better health outcomes and improved quality of life.
Understanding Celiac Disease:
Before we dive into the importance of early detection, let's briefly understand what celiac disease is. Celiac disease is a chronic condition where the ingestion of gluten, a protein found in wheat, barley, and rye, triggers an autoimmune response in the small intestine. This response damages the intestinal lining, leading to malabsorption of nutrients and various health problems.

Signs and Symptoms in Children:
Celiac disease in children can manifest in a variety of ways, and symptoms may differ from those seen in adults. Some common signs and symptoms in children include:
Digestive Issues: These can include diarrhea, constipation, abdominal pain, and bloating.
Growth Problems: Delayed growth or failure to thrive may occur due to nutrient malabsorption.
Irritability and Mood Changes: Children with undiagnosed celiac disease may exhibit behavioral changes.
Skin Issues: Some children may develop skin rashes, such as dermatitis herpetiformis.
Anemia: Iron-deficiency anemia can result from poor nutrient absorption.
Why Early Detection Matters:
Nutrition and Growth: Early detection allows for prompt intervention, ensuring that children receive the necessary nutrients for healthy growth and development. It can prevent stunted growth and related developmental issues.
Preventing Long-Term Complications: Untreated celiac disease can lead to long-term complications such as osteoporosis, infertility, and an increased risk of certain cancers. Early detection and management can reduce these risks.
Quality of Life: Identifying celiac disease early can significantly improve a child's quality of life. It prevents the discomfort and pain associated with ongoing symptoms, helping children thrive socially and academically.
Avoiding Unnecessary Tests: Early diagnosis can prevent unnecessary medical tests and procedures, as identifying the root cause of the symptoms can lead to more targeted treatment.
The Role of Healthcare Professionals:
Pediatricians and healthcare providers play a critical role in the early detection of celiac disease in children. If a child exhibits symptoms or has a family history of celiac disease, it's essential for healthcare professionals to consider celiac disease as a potential diagnosis. This may involve blood tests to measure specific antibodies and, if necessary, an endoscopy to confirm the diagnosis.
Conclusion:
In conclusion, early detection of celiac disease in children is paramount. It not only helps prevent short-term health issues but also ensures a better quality of life and reduces the risk of long-term complications. If you suspect that your child may have celiac disease or if there is a family history, consult with a healthcare professional for proper evaluation and testing. Early intervention can make a world of difference in a child's health and well-being.